Summary of June 16, 2017 morning, Zhengzhou Huajing Diamond Co., Ltd. Under the "notice on strengthening of good governance and strengthen risk prevention and control work," organized the self-discipline to sign an undertaking Conference, organized by the Chinese Communist Party branch in Zhengzhou Huajing Deputy Secretary Wen Erli presided over the call...
On the morning of June 16, 2017, Zhengzhou Huajing Diamond Co., Ltd. organized a meeting on signing the Integrity and Self-discipline Commitment in accordance with the Notice on Strengthening the Construction of Integrity and Strengthening Risk Prevention and Control. The meeting was chaired by the CPC Zhengzhou Huajing Party General Branch. The secretary Wen Lili presided over the meeting. The CPC General Committee of Zhengzhou Huajing Party, the deputy general manager of the company, the general manager of the business department and the general managers of the subsidiaries attended the meeting.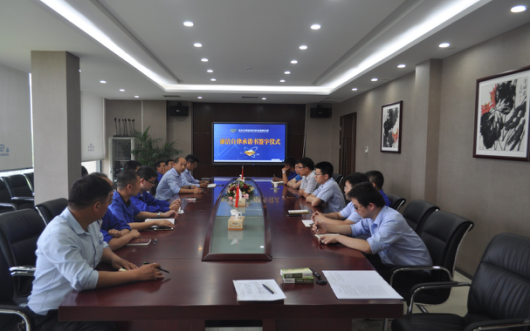 The meeting was firstly convened and deployed by Comrade Li Guoshang, member of the General Branch of the Huajing Party Branch, on "Strengthening the construction of a clean government and strengthening risk prevention and control." Comrade Li Guoxuan clearly stated that the signing of the "Commitment Letter" is not a simple form, but also a serious responsibility endorsement and a solemn declaration of integrity. It requires all cadres and workers to strictly demand themselves, lead by example, and take the lead in honesty and self-discipline. All leading cadres of Huajing Company must do a good job in the implementation of the provisions of the letter of commitment, turn the requirements printed on paper into tangible actions, build a defense line against anti-corruption ideas from the source, and promote various Work continues to a new level to provide a strong spiritual drive and integrity.
Comrade Wen Erli emphasized that we will work as an important task for the work of building a clean and honest government. Therefore, leaders should further raise their awareness of the importance of building a clean government, as the main person in charge of all departments and units of the company. We must set an example and grasp implementation, earnestly enhance the sense of responsibility and consciousness of the work, closely combine with our own reality, and actively take effective measures to implement it. In the work, especially the majority of party members and cadres, we must combine the requirements of the party's mass line education and practice activities, effectively solve the problem of party style and integrity in the company, and better promote the healthy development of the company.
The signing of the letter of commitment is both a form of self-discipline and a form of other law, and is a useful attempt to innovate management measures. Through the form of commitment, the responsibilities, obligations and powers of Huajing employees were further clarified. It also further demonstrated the clear attitude and determination of all employees of Huajing Company to ban and consciously accept supervision, which provided a strong driving force for the rapid development of Huajing Company.
Camping Cutlery,Camping Cutlery Set,Camping Spoon Fork Knife Combo,Picnic Stainless Steel Tableware
Easy-Go Outdoor Co.,Ltd. , https://www.yjeasy-go.com