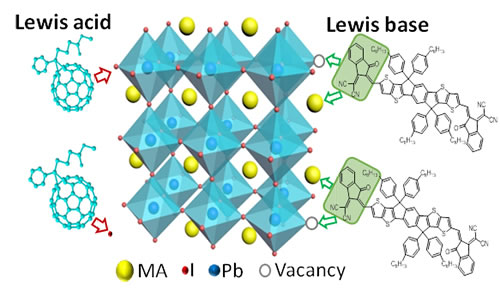 Recently, Liu Shengzhong, researcher of the silicon-based solar battery research group of the Solar Energy Research Department, Dalian Institute of Chemical Physics, Chinese Academy of Sciences, Zhao Kui, professor of Shaanxi Normal University, and Aram Amassian, professor of King Abdullah University of Science and Technology, in the perovskite New progress has been made in the field of batteries, and related research results have been published in Advanced Materials.
In recent years, organic-inorganic hybrid perovskite solar cells have received extensive attention due to their excellent photoelectric properties, but polycrystalline MAPbI3 perovskite films prepared at low temperature have a large number of defects existing at their grain boundaries that cause carrier recombination. Affects the photoelectric conversion efficiency and stability of the battery device. Based on this, the researchers introduced a semiconductor organic small molecule with Lewis acid/base functional groups in the MAPbI3 perovskite by anti-solvent modification technology, which increased the device efficiency from 17.5% to 19.3%. It was found that Lewis acid-base adducts or halogen-fullerene radicals formed between semiconductor organic small molecules and perovskites can effectively passivate Pb2+ vacancies or Pb-I anti-site defects. At the same time, the improvement of the matching of energy levels between the two helps to enhance the passivation of defects and improve the mobility of carriers.
In addition, the hydrophobic organic small molecules at grain boundaries can effectively resist the ingress of water vapor. The device maintains an initial efficiency of more than 80% after 40 days in a relative humidity environment of 50%. This work provides more rational ideas and methods for the preparation of highly efficient and stable perovskite solar cells, and will also contribute to the commercial application of perovskite solar cells.
The research work was supported by the National Key R&D Program, the National Natural Science Foundation of China, the Central University Fund, the Ministry of Education's "111 Introduction Program" and the "Thousand People Program" project.
They are well - made jute plant hangers that will give your space a great look while offering outstanding value . Macrame hanging baskets are exquisite Chinese pure handmade weave , handmade of natural , high quality jute and designed to exceed your highest expectations ! Plant hangers diy . Truly beautiful timeless bohemian style with great accent matches with any modern or conventional style . Homemade plant hangers . Sleek plant hanger and matches perfectly with neutral pots and pottery .
Hanging Plant Stand,Jute Plant Holder,Plant Stands For Balcony,Wall Mounted Plant Holder
Shandong Guyi Crafts Co.,Ltd , https://www.guyicrafts.com